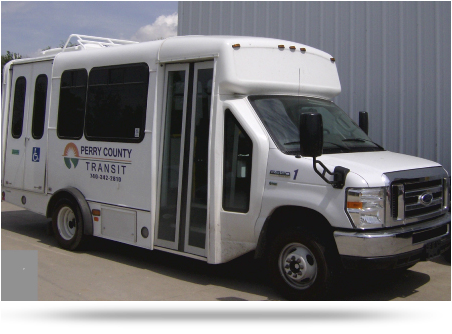 Perry County Transit

Located in the Village of New Lexington, Ohio and offers curb-to-curb demand response shared ride (first come, first serve) transportation services.

Perry County Transit complies with Title VI of the Civil Rights Act and with all Americans with Disabilities Act (ADA) standards. A personal care attendant accompanying a person with a disability to their destination may ride free of charge. Service animals may board Perry County Transit vehicles with their owner.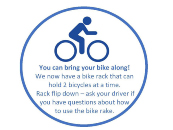 You Can Bring Your Bike Along!
We now have a bike rack that can hold 2 bicycles at a time. Rack flip down - ask your driver if you have questions about how to use the bike rack.
HOW TO SCHEDULE YOUR RIDE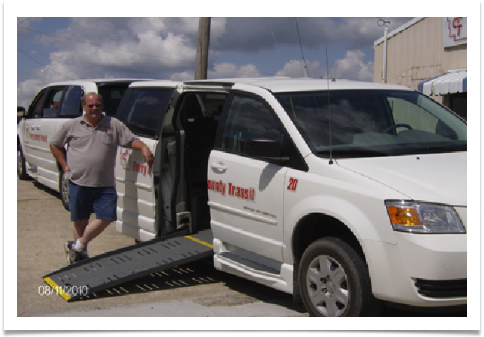 To make a reservation, you will need to provide your name, pick-up point, destination, time of trip, and a telephone number. If accommodations such as a wheelchair or a personal care attendant is necessary, please inform person taking reservation.

If the trip cannot be confirmed at the time of the request, transportation personnel will call back to either confirm or deny the request. If the passenger has no phone, it is his /her responsibility to call the office to confirm. Vehicles will not be dispatched without confirmation.
Transit: Service Procedures
•
Service is provided origin to destination.
•
Vehicle may arrive 15 minutes before or after your scheduled pick up time. Please be ready!
•
Driver will wait no more than 5 minutes at the curb.
•
All trips must be scheduled at least 24 hours in advance and are subject to availability.
•
Cancellations must be made no less than 1 hour before scheduled pick up time. Failure to give at least a 1hour notice of cancellation will result in a no-show. PCT reserves the right to deny service to passengers who continually cancel trips and are No–Shows. Three No-Shows consecutively within 30 days will result in denial of services for the next 30 days. Any person suspended may appeal their No-Show events to the Transit Director. If appeal is denied, the suspended person has the option of immediate reinstatement by paying all the No-Shows and a $5.00 reinstatement fee for the first offense. Reinstatement fees will double with each subsequent and reoccurring offense. (i.e. $10 for 2nd)
•
Transportation will be provided within 100 mile radius of Perry County Transit office when available.
•
Transit services may close for severe weather. Every attempt will be made to notify the passenger if a trip must be cancelled due to inclement weather or you can tune to WYBZ 107.3.
•
Same day transportation may be available on a first come, first served basis and is subject to availability with additional same day service fee of $2.00.
•
Seatbelt must be worn at all times.
•
Seatbelt must be worn at all times.
•
No eating, drinking, smoking , or use of other nicotine products within vehicle. (including E-Cigarettes)
•
Respect the driver and the other passengers.
•
Drivers are NOT permitted to enter the place of origin or destination.
•
No weapons are permitted. (ORC 2923.1212). No open containers of alcoholic beverages or illegal drugs are permitted to be transported in or on PCT vehicles.
•
No flammable materials may be transported. (exception for medical oxygen)
•
In an effort to keep passengers safe, shirt and shoes must be worn at all times.
•
Wheelchairs will be properly secured by the driver for the safety of all passengers.
•
Physical contact with the driver is not permitted.
•
Perry County Transit will not go through a drive-thru. Each stop is considered a separate trip and will be charged accordingly.
•
Please have exact change ready. Drivers are not permitted to make change.
Transit: Service Hours + Fares
HOURS
Monday, Tuesday, Thursday, Friday:
6:00am - 6:00pm

Wednesday:
6:00am - 9:00pm

Saturday:
8:00am - 12:00pm

Closed Sundays and all legal Holidays
OUT OF COUNTY FARES (each way)
•
Any reservation out of county up to 50 mile radius from the Perry County Transit Office is $10.00 each way.
•
Any reservation out of county more than 50 mile radius from the Perry County Transit Office is $20.00 each way. (not to exceed 100 miles)
ELDERLY AND DISABLED FARES:
With in Perry County Only
Seniors (65 and older) and people with disabilities are eligible to pay a half price fare if their application is approved. Half Price fare is also given to an individual with a Medicare ID. Online application or available at the Perry County Transit Office.


IN COUNTY FARES
Zone 1 - $2.00 - (New Lexington/Rehoboth Area)
Zone 2 - $2.50 - (Junction City/Bristol Area)
Zone 3 - $3.50 - (Six Mile Turn/Redfield/Saltillo Area)
Zone 4 - $4.50- (Shawnee/Crooksville/Somerset)
Zone 5 - $5.50 -(NewStraitsville/Rendville/Roseville Sayre/
Hemlock/Maxville)
Zone 6 - $6.50 - (Corning/Mt.Perry)
Zone 7 - $7.50- (Thornville/Glenford/Glouster)
Same Day Fee - $2.00